The European Grandma Project won the Austrian competition jury award of the Vienniese human rights film festival this human world.
Jury Statement of Adia Trischler, Helin Celik and Marija Milovanovic:
"In a very personal way, the filmmakers were able to build a bridge between past and present. In times of political upheaval, they recall in coherent, cinematic form, relevant events in the European history and reflect them. The relevance of the topic, the diversity and the openness of the protagonists have moved, touched and convinced us in different ways. The Austrian this human world jury prize goes to The European Grandma Project (by Alenka Maly). "
[translation by EGP]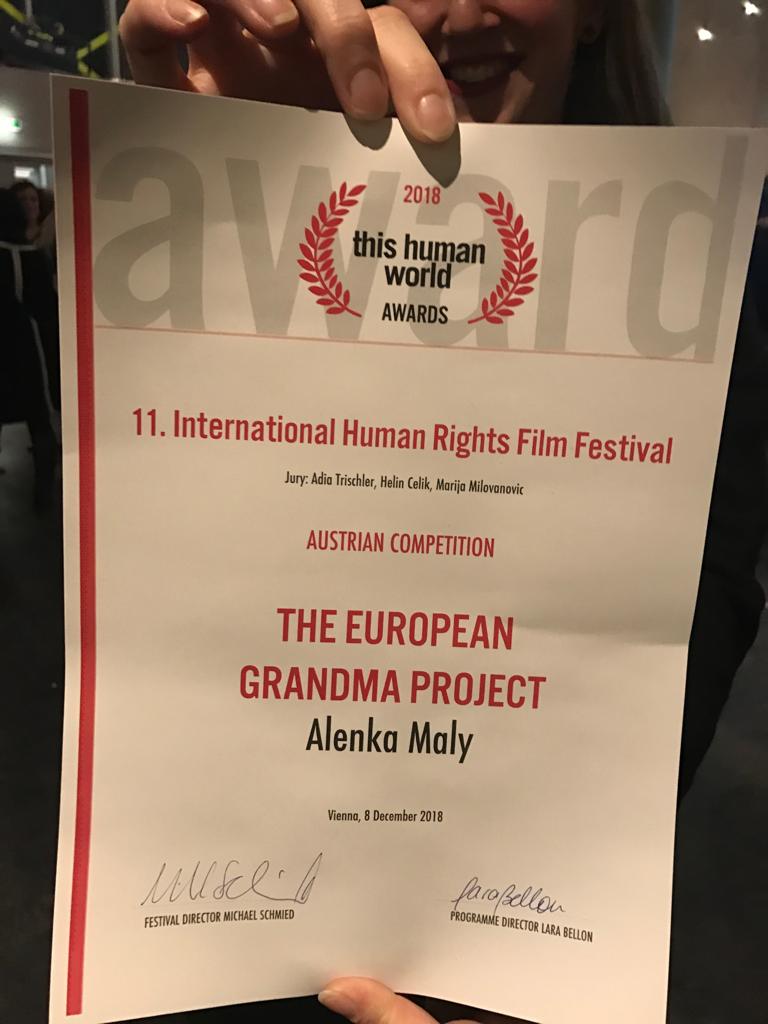 At the award ceremony two of the producers Nora Gumpenberger and Barbara Steiner thanked in the name of the whole team: women in the age of their mid twenties to mid nineties from Europe and Israel. The idea of director Alenka Maly to share her grandmother's stories with the world and to invite also other female filmmakers to do so, brought us this film. In times of borders, fences and right extremists in goverments our film achieves the sense of togetherness that comes with the realization that, with all our cultural differences, we are all in many ways actually quite similar – we need no divisions.
After the successful screening at the Top Kino with a more than full theater we were honoured to receive this recognition. So many thanks to the festival directors Michael Schmied and Lara Bellon, their festival team, the jury Adia Trischler, Helin Celik and Marija Milovanovic and the audience!